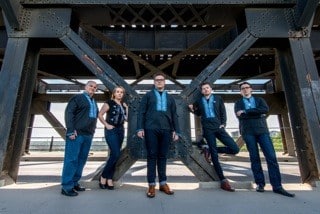 Euphoria is a fusion of Ukrainian pop, rock, and traditional music from Ukraine along with English favourites performed in a contemporary style. Euphoria is known in the Ukrainian Canadian community for upholding its Ukrainian heritage through traditional Ukrainian songs with modern pop influences from Ukraine.

Celebrating its 10-year anniversary in 2017/2018, the Euphoria Band has enjoyed performing at zabavas, weddings and special events throughout the Canadian prairies for thousands of energized audiences. Euphoria's beginnings originated in 2007 with like-minded friends from Edmonton sharing a musical passion. This passion quickly turned into one of Alberta's premiere dance bands playing Ukrainian music with a modern twist. 
The band is made up of five members including Adrian Warchola on vocals and keys, Marissa Karpiak on vocals, Steven Gowda on drums, Fred Mack on Tenor Saxophone, and Brett Hansen on guitar. Euphoria is in the final stages of producing it's very own debut album set to launch in 2018. One thing's for sure – if you're looking for an unforgettable night of music and celebration, you'll find it here. Check out euphoriaband.ca for all the proof you need.